Custom Search
Southern Arizona Veterans' Memorial Cemetery
Foundation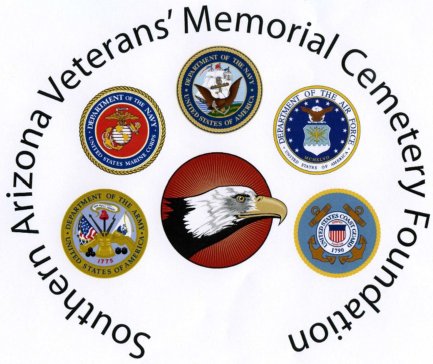 The Southern Arizona Veterans' Memorial Cemetery Foundation's mission is to directly support the Southern Arizona Veterans' Memorial Cemetery with beautification and other projects. The Southern Arizona Veterans' Memorial Cemetery is a division of the Arizona Department of Veterans' Services. To visit their website goto http://www.azdvs.gov/services/cemetery.aspx
The Southern Arizona Veterans Memorial Foundation is raising funds to build a Veterans' Chapel inside the Veteran's Cemetery. The Veterans Chapel will give families the option to hold a commital services either out side in the Commital Shelter or inside the Veterans Chapel.
Write and read reviews about our organization. Click here
Check out our latest Youtube postings.
Photos and Youtube provided by Ty Holland